The Facility
InnEA's system is conceived and designed as an integrated platform to process the Organic Fraction of Municipal Solid Waste or the Agricultural and Animals By-Products, using some of the best available technology to recover the maximum value from waste, minimizing the amount of waste taken to the landfill.
The Organic Urban Fraction and other biomass from agriculture or animals are used to obtain:
Renewable energy such as bio-methane, or electricity and heat;
Organic fertilizer (KEMET®);
CO2 pure to 99% for different purpose and commercializations.
The plant is organized as in the image below: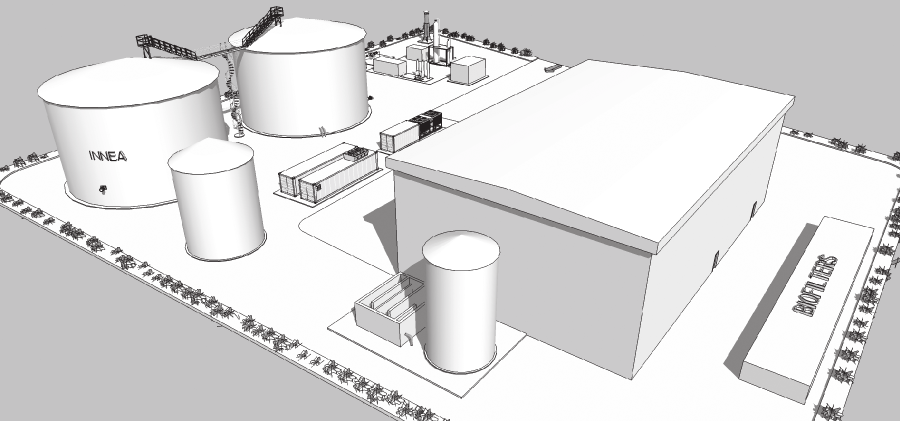 The associated companies, each in their technical skills, realize the individual parts which then will compose the system in its entireness:
Digesters and works in metal carpentry;
Electrical, thermal-hydraulic and mechanical systems;
Systems fot the management and storage of the material input;
Design and construction management software, monitoring and remote control;
Sorting plants for the inorganics recyclable and reusable materials;
Upgrading biomethane plants;
Digestate treatment plants.
and everything needed for the realization of the planned work.
Strengths of the System
High Efficiency
The shape of digester allows a very efficient mixing of the liquid, as it promotes a natural mixing effect due to the increase of the biogas microbubbles, with a consequent low power consumption.
Reliability
The digesters are built above ground entirely of stainless stell (body and roof) to ensure a safe service life for at least 30 years and a simple and cheap maintenance.
Maintenance Low Costs
Around the world, there are plants which have been working over many years: maintenance has been limited to the change of end-of-life motors, consumables and lubricants. The stainless steel body will keep a good value at the end of the plant's life.